This is a Sponsored post written by me on behalf of Ringier Media. All opinions are 100% mine.
How amazing is this hand-painted "News" sign from Three Potato Four?!
I admit that I'm a bit of a News junkie.  I love staying up to date on what's going on in this crazy world we live in!  I'm a huge politics dork, and the year before elections is quite exciting for me.  I'm already glued to the  coverage for next year's presidential elections.  Pretty dorky huh?
How do you keep up with the News??
If I'm at my parents' house, there is almost always a newspaper on the kitchen counter.  Something about a newspaper just seems warm and homey to me.  I can remember many lazy Saturday mornings, mindlessly pouring over a newspaper while eating my cold cereal.  I'm not so great at reading a real newspaper now, although I do collect newspapers for fun projects like this...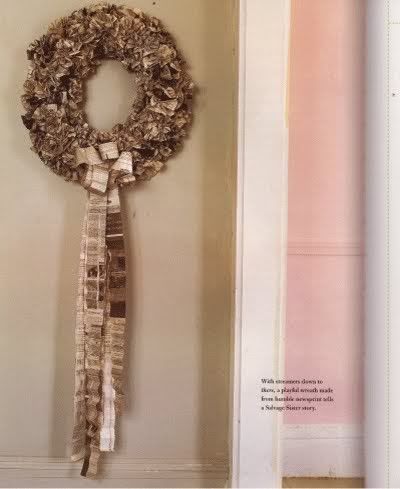 Gorgeous newspaper wreath found via Pinterest
Now, I DVR my favorite News shows and follow my favorites News channels via Twitter.  On my iPad, I even get instant pop-up alerts of the latest breaking News.  I am somewhat proud of the fact that even while flying on an airplane from Denver to Maui, I found out about Osama bin Laden's demise even before the public news broke. (Thanks, Twitter!)
Do you remember the iPad case I shared last week?? A while back, many of you kindly shared your favorite iPad apps with me.  I'm quickly becoming an app-aholic!  Now I can use my iPad to keep up with globally relevant topics.  There's a brand new iPad app called the collection.