Jenae is a former first grade teacher turned stay-at-home Mama to two precious (and wild and crazy) little boys. She loves spending time with her family and sharing fun and educational ideas with other parents and caregivers on her blog I Can Teach My Child!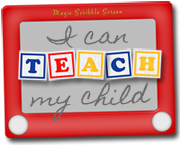 Baggies are an inevitable part of life with children.
Whether you are packing a school lunch or throwing Cheerios in a diaper bag, baggies are a must for every parent.
Instead of using disposable baggies, though, try making your own! It's super easy and takes about 20 minutes tops! Plus, one benefit of these baggies is that they are insulated!
Here's what you'll need:
A picnic tablecloth (the kind with the felt on the back),
Sew-on velcro (I used 1/2 inch...I think),
Pins, a sewing machine, and thread!
Optional: Rotary cutter and mat.
1. Cut a section from your very large tablecloth...no smaller than 16x9 inches.
It will be easier to work with if you start off with a small piece.