Hello again!  If you haven't already, be sure to check out the amazing Creative Carousel projects I posted about earlier today.  You will find tons of inspiration for your upcoming Love Day!   I am now switching gears from V-Day to full steam ahead on planning a Mickey Mouse birthday party.  Time is running out before the big day!
Now it's time to par-tay!  I stayed up late last night reviewing all of the links from last week's party.  Wowzers, you people are talented!
Today's party is brought to you by e-mealz.  Especially right now, as we are saving for a house, I believe that e-mealz is a powerful way to save money on meals!  E-mealz plans delicious meals for the week and even offers a cheap, quick grocery list to print out on your way to the store.  It's a genius way to save time and money!
Now let me show off some of my favorite links from last week's party.  Y'all are making it way too difficult for me to narrow down my favorites!  There is so much to pin here!  Check it out...
The most viewed link was How Does She?'s 10 Things I Love About You:
Those ladies at How Does She? always have the best ideas!  This is something I would LOVE to do for my hubby.
Here are a few of my other favorites:
Some fabulous printables!
1 - Snowman:  Some Assembly Required printable @ Funky Polkadot Giraffe
2 - A Bushel and a Peck printable @ Tattered and Inked
3 - The ABC's of Us @ The Dating Divas
"Pretty Stuff"
4 - Baby boy nursery tour @ Positively Splendid
5 - Bow Tie Not Optional Necklace @ Flamingo Toes
6 - Ruffled lamp shade @ Putting Down Roots
7 - Embossed music note wreath @ Mockingbird Cottage
8 - Circus Party @ vixenMade
Valentine's Day goodies!
9 - Valentine M&M Samoa Blondies @ Six Sisters Stuff
10 - Peanut Butter Blossoms @ Sugar Bean Bakers
11 - Pink mini donuts @ The Diary of Dave's Wife
LOVE inspiration
12 - Love is All You Need @ The Happy Scraps
13 - Pottery Barn Knockoff Love Wall Art @ Uncommon Designs
Now let's get this party started!!
Just a reminder that this is a party!  Be sure to stop by someone's blog and tell them hello.  I am a firm believer in the power of positive commenting.
Grab a button so you can play along.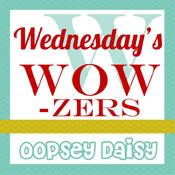 <div align="center"><a href="http://www.oopseydaisyblog.com/" title="Oopsey Daisy"><img src="http://i987.photobucket.com/albums/ae356/alpal917/Wowzers_good.jpg" alt="Oopsey Daisy" style="border:none;" /></a></div>