Jenae is a former first grade teacher turned stay-at-home Mama to two precious (and wild and crazy) little boys. She loves spending time with her family and sharing fun and educational ideas with other parents and caregivers on her blog
I Can Teach My Child!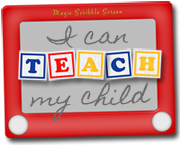 Baggies are an inevitable part of life with children.
Whether you are packing a school lunch or throwing Cheerios in a diaper bag, baggies are a must for every parent.
Instead of using disposable baggies, though, try making your own! It's super easy and takes about 20 minutes tops! Plus, one benefit of these baggies is that they are insulated!
Here's what you'll need:
A picnic tablecloth (the kind with the felt on the back),
Sew-on velcro (I used 1/2 inch...I think),
Pins, a sewing machine, and thread!
Optional: Rotary cutter and mat.
1. Cut a section from your very large tablecloth...no smaller than 16x9 inches.
It will be easier to work with if you start off with a small piece.
2. Line up your fabric and make a cut at 14.5". I made mine at 14" and I would suggest making it a tad larger to fit a sandwich in the baggie. Cut the width at 7.5". Cut another rectangle with the exact same proportions.
3. You'll have 2 rectangles now measuring 14.5x7.5". Put the right sides together...
...and pin!
4. Sew 1/4 inch seam down the length of both sides.
You'll end up having a long-sleeve looking piece.
5. Tuck the unsewn edges in with as small of a seam as your hands can manage.
6. Pin the tucked seam down.
7. Sew as close to the edge as possible.
All four sides should now be sewn shut.
8. Cut your velcro almost the same size as the width of the fabric, but perhaps a centimeter or two smaller.
9. Sew one end and then the other, so that the velcro pieces are on the same side of the fabric but at opposite ends.
10. Fold the rectangle on top of itself and secure the velcro. The sides of the bag are still unsewn, so now we just have to make a straight stitch up both sides. Be sure to backstitch!
The bag is all done!
The stitching on the sides of the bag will appear on the outside. If you don't like this, I suggest finding a different tutorial as I couldn't figure out another way to use the tablecloth on both the inside and the outside without having the stitching show.
Ready to use! To wash, rinse with soapy water and let dry or throw in the washing machine and air dry.
**************
I truly appreciate Jenae's fabulous blog! When I'm teaching Mommy School, I'm constantly consulting Jenae's wealth of knowledge and ideas!
Thanks for being here today!