Guess what?!  After almost a week in the new home, my kitchen is unpacked!  After days of dish washing, and 3 trips to Bed, Bath, and Beyond to buy more shelf liner, I think everything has a home on a kitchen shelf.  I even over-think my kitchen cupboards!  I rearranged things way too many times and even contemplated alphabetizing the spices.
Small triumphs!
Today I am "positively" thrilled to have one of my blogging besties, Amy here.  I am so grateful for blogging buddies who are so willing to lend a helping hand!
*********************
PS is all about innovative craft and DIY projects that boast vibrant color schemes and a cheerful sensibility. Having been raised in a home brimming with sewing notions and paintbrushes, I strive to use my passion and enthusiasm for creativity to encourage others to tap into their innate creative potential with step-by-step tutorials suitable for crafters of all skill levels. I would love for you to stop by for a visit!
I am thrilled to be guesting for my sweet friend Alison today!
Isn't it incredible how when the calendar turns to April, it seems there are not just one or two but
dozens
of different events and holidays that necessitate gifts? With Mothers' Day, Fathers' Day, end of school celebrations, graduations and weddings (plus a few baby showers thrown in for good measure!), the spring is certainly brimming with opportunities to share handmade gifts. The idea I'm sharing today -
a Clipboard Photo Display
 - is a perfect option to suit just about anyone on your list, and the best part is, these can easily be made in just a couple of hours!
For this project, you will need...
A memo-sized clipboard (6x9")
Spray primer and paint
Patterned scrapbook paper
Paper trimmer
Corner rounder (optional)
Mod Podge
Foam brush
Photo easel back (I used the one I had leftover from my DIY Stacked Photo Frames, but you could purchase a cheap frame from the dollar store and use the easel back from that if you don't have a spare frame around the house.)
Heavy-duty adhesive (I like E6000)
Ribbon
Scissors
To begin, prime your clipboard and allow it to dry before applying a couple of light coats of your spray paint. (Important: don't skip the priming step, as I discovered the hard way that the paint won't coat evenly without it.) Allow your clipboard to dry completely.
Use your paper trimmer to trim a piece of patterned paper that is 5.5x7." Round all four corners of this piece with your corner-rounding tool.
Apply an even coat of Mod Podge to the back of your paper piece with your foam brush, making sure it is entirely covered. Then, adhere the paper to the front of your clipboard, aligning the top edge just below the metal clip part of your board. Make sure to smooth out any bubbles under the surface of the paper! Now, apply 2-3 light coats of Mod Podge over the entire clipboard, coating the paper thoroughly, allowing each coat to dry before adding the subsequent coat. Note: Don't apply Mod Podge to the metal clip portion of the board; carefully work around it as you go. 
When your board is completely dry, use your heavy-duty adhesive to adhere the easel back to the back of your clipboard. Allow the adhesive to dry completely.
If desired, embellish the clip portion of your board with a loop of ribbon tied in a bow. (This did a great job of covering up the Staples logo on mine.)
Here she is on her own...
...but I like her even better showcasing a sweet photo! You could also use this board as a recipe holder, a memo board, or anything else under the sun. This is a really versatile project!
By changing up the color scheme and patterned paper (and by forgoing the bow embellishment), this project could easily be tailored to suit the guys in your life, too.
A huge thank you to Alison for having me over today!
I hope you'll stop by to say hello at Positively Splendid soon.
You can also find me hanging out on Facebook, Twitter and Pinterest!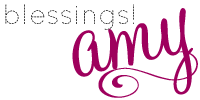 --
Amy
www.positivelysplendid.com
Twitter: @splendidamy
*********************
What a lovely project!  I am a huge fan of Amy's crafts!  Here are just a few of my favorites:
Love Amy's incredible mantles--like this vibrant spring mantle
I have enjoyed every detail of Amy's baby boy nursery reveal
These tiered terra cotta planters rocked my world! One of my favorite "Amy" projects!
These lined canvas bins were made from diaper boxes!  Genius!
I always adore Amy's wreaths, like this felt rose wreath.
Have a fabulous weekend my friends!!