Well, I asked you to "wow" me, and you most definitely did!
Oh my friends.  I can't begin to tell you how lovely it was to stop by and visit your blogs this week and last.  I loved having the chance to check out your blogs and see what you're all about.  It made my week to get to know you a little bit better.  I hope you'll stop in each and every Wednesday!  I am looking forward to more creative inspiration!
Today's Wowzers is brought to you by Scentsy's independent consultant, Samantha Fryer!
 I am thrilled to have Scentsy/Samantha Fryer as my newest sponsor!  In fact, you can e-mail Samantha at samantha.fryer27@gmail.com to inquire about your own special gift--just for Oopsey Daisy readers!  Awesome, right?!
Now on to some amazing features!
Here are a few ideas linked up that really caught my eye:
These duck-tape covered boots are ah-MAZ-ing!  I would never guess in a million years that they were created from duct tape.  Well done, Crafting in the Rain!
Normally I don't think "easy peasy" when it comes to making a blanket.  But sweet Melissa at The Polkadot Chair sure makes these monogrammed fleece blankets look easy!  So, so darling!
I love these do it yourself photo pendants from GingerSnap crafts.  What a sweet, personal gift!
Simple and sweet--that's what I love about these mason jars wrapped in paper doilies and bakers twine.  Perfect for Valentine's Day!  Great idea from Titus 2 Work in Progress.
Chili's copycat salsa from Six Sisters Stuff.  I must try this.  Mr. oopsey daisy is completely obsessed with Chili's salsa!
With a little salty comes something sweet!  This snowflake crunch popcorn is not only beautiful but looks tasty too!  Find the recipe at Sugar Bean Bakers.
As a mom of a Little Boy, I rarely look twice at girls' clothes.  But this dress blew me away.  I love everything about it--even the matching pinwheel bow that Pinafores & Pinwheels created.  You must check this out!
The link with the most hits was Clean and Scentsible's top 10 craft projects of 2011.  I featured some of these projects during the year, so I agree!  Congrats Jenn!
Now on to the party!  Just a reminder...
So grab a button and play along!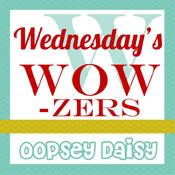 So let's get started!  Linky link link!

Have a happy Wednesday!