Happy Wednesday, my friends!
Thank you, thank you to all of you who entered to win a Silhouette CAMEO!  The lucky winner was Isis Pedersen, comment #2947!  Isis, we hope you have loads of fun with your new machine!  Congratulations!  But don't forget that you can all take advantage of the great deals running until January 5th.  Use code "OOPSEY" to purchase a CAMEO plus a fabric ink starter kit for only $299.  You can also purchase any fabric ink supplies for 20% off using the same code.
This might be your time to finally purchase a Silhouette CAMEO!
Now... get ready to link up to Oopsey Daisy's first-ever Wednesday's Wowzers link party!  I have been looking forward to this day for oh-so-long!
So grab a button and play along!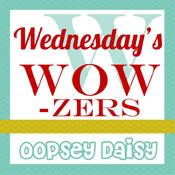 I am thrilled to begin hosting a weekly linky party here on Oopsey!  For years I have toyed with the idea of hosting a link party.  I realize that there are many parties out there.  But I am SO looking forward to this opportunity to get to know YOU!  This is my chance to visit your blogs each and every Wednesday and see what you're working on!  So thank you for bringing a little Wednesday's Wowzers inspiration straight to me!
You may find that YOUR creation featured right here.
Just a few party guidelines:
So let's get started!  Linky link link!