This post brought to you by Carapelli. All opinions are 100% mine.
I was thrilled when Carapelli sent me a bottle of olive oil to review!  Besides conducting my very own taste test, I also used the olive oil to mix up a batch of my favorite manicotti!
When I think of olive oil, I think of Italy!  Carapelli has been making olive oil from the finest Mediterranean olives for more than 100 years. In fact, Carapelli was the very first company to promote extra virgin olive oil in Italy.  Their distinctive brand of olive oil includes 3 varieties:  Organic, Premium 100% Italian, and Il Numerato.
I learned a lot about olive oil testing when they sent me a bottle of their Premium 100% Italian olive oil.  For example, I found out that olive oil sampling is very similar to a wine tasting!
This is how you can conduct an olive oil sampling plus select the variety that you like best:
First, you need a rounded blue glass that fits in the palm of your hand.  The blue color masks the olive oil's color so you can judge it purely by taste.  Your hand warms the glass in your palm, which will enhance flavor and smell.  Who knew, right?!
I discovered that there are 4 S's when it comes to olive oil tasting:  Swirl, Sniff, Slurp and Swallow
1. Swirl – This helps to release the oil's esters, the molecules that contain the aroma.
2. Sniff – As you inhale deeply, you will be able to breathe in the aroma of the oil. The key to the aroma is the fruitiness of the oil.
3. Slurp – This disperses the oil and helps to spread it throughout your mouth. Oils have different tastes and sensations.  It might taste fruity, peppery, smooth, etc.
4. Swallow – Once you swallow the oil, it should leave your mouth with no aftertaste, so pay attention to any sensations.
I loved the fresh taste of the olive oil they sent me!  I was very impressed at the difference between Carapelli and the generic olive oil I had sitting in my cupboard.  I decided to put their olive oil to the test by trying it out in my favorite Italian recipe.  I mixed up a batch of manicotti!
Making your own manicotti is so easy!  But you can serve this dish and feel like it's fancy!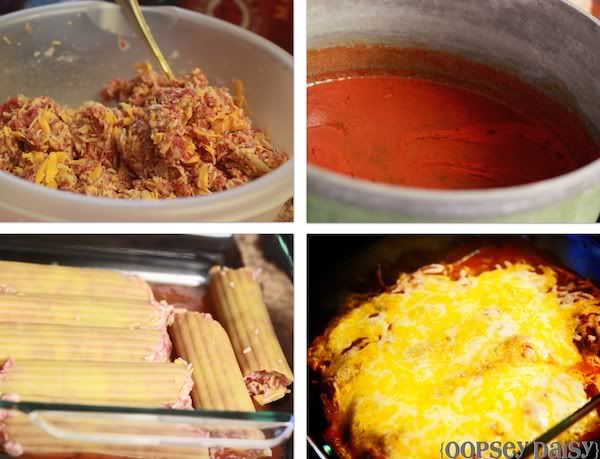 Manicotti
1 lb. ground beef or ground sausage
8 oz. Monterey Jack cheese
½ c. chopped onion
1 egg
8 oz. cheddar cheese
3 slices fresh bread, crumbled
½ c. milk
¼ tsp. Italian seasoning
Mix together and stuff into uncooked manicotti noodles.  Uses at least 14 shells, but usually more.
Sauce
1 can tomato sauce (16 oz.)
½ can hot water
1 T. extra virgin olive oil (Here is where Carapelli's olive oil came in!)
½ tsp. garlic powder
1 T. parsley flakes
1 tsp. salt
¼ tsp. pepper
¼ tsp. fennel seeds
½ tsp. minced onion
Mix all together and bring to a boil. Cover bottom of a 9 x 13 baking dish with small amount of the sauce.  Place the stuffed manicotti (single layer is best) on the top of sauce and pour the remaining sauce over all.  Bake covered with foil for 1 hour at 350 degrees.  Uncover and top with shredded Monterey Jack or Mozzarella Cheese.  Bake 5 minutes.  Let stand 10 minutes and serve.
If you are interested in downloading this recipe just click here.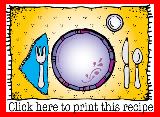 And just in time for your holiday baking and cooking, you can print off your very own coupon at  www.carapelliUSA.com.  So you can try out Carapelli olive oil, too!
$1.00 OFF coupon at www.CarapelliUSA.com 
What are you baking/cooking lately?
Have a great day!