Today I am thrilled to be hosting the inspirational bloggers Chad and Mary Beth from Nothing But Country.  I just know you're going to love their tutorial today!

Hello, hello!! I am so excited to be blogging over here at Oopsey Daisy! Today I am excited to share  one of our fun crafts with you. I am Mary Beth, and you can find me over at Nothing But Country. My husband and I are often creating together. But you will find that I do the blogging, and he does most of our cooking/baking posts. He loves to cook (I am one lucky gal!!) And I love to craft so we make a great team!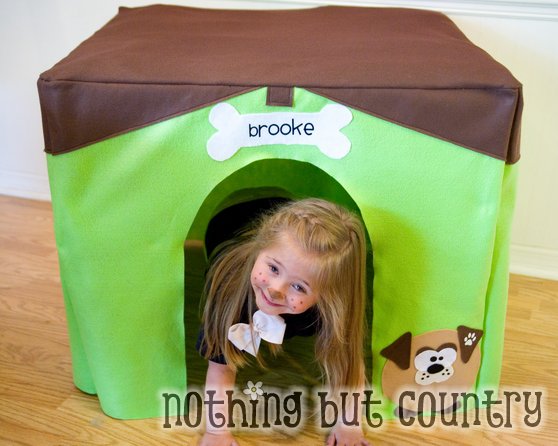 My daughter is having a puppy party for her birthday. I wanted to have something fun that the girls can play in to pretend they are puppies in one of the activities. Instead of making a dog house out of a refrigerator box and then having to store it. I wanted something easy to pack away & easy to make.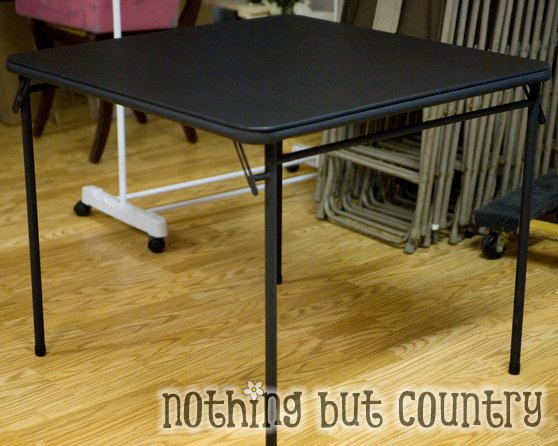 I had this card table that I purchased at Target. My card table measures 34" wide by 28" tall.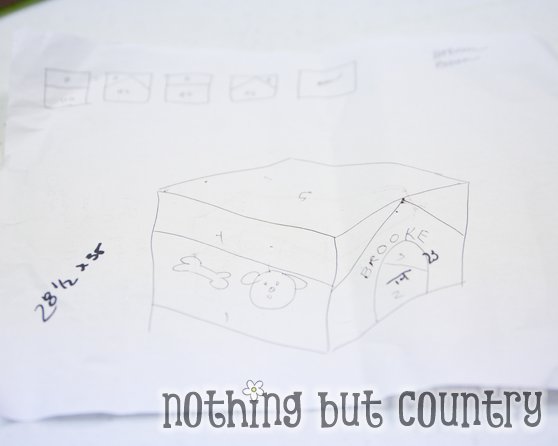 I am not much of an artist. Ha Ha. This is the sketch I came up with originally. Not exactly how it ended up to be, but it helped me with planning how much material I needed and what each panel would generally look like.
I purchased 2 yards of green and 1 yard of chocolate felt and multiple colored sheets of felt based on what I wanted to have on my dog house.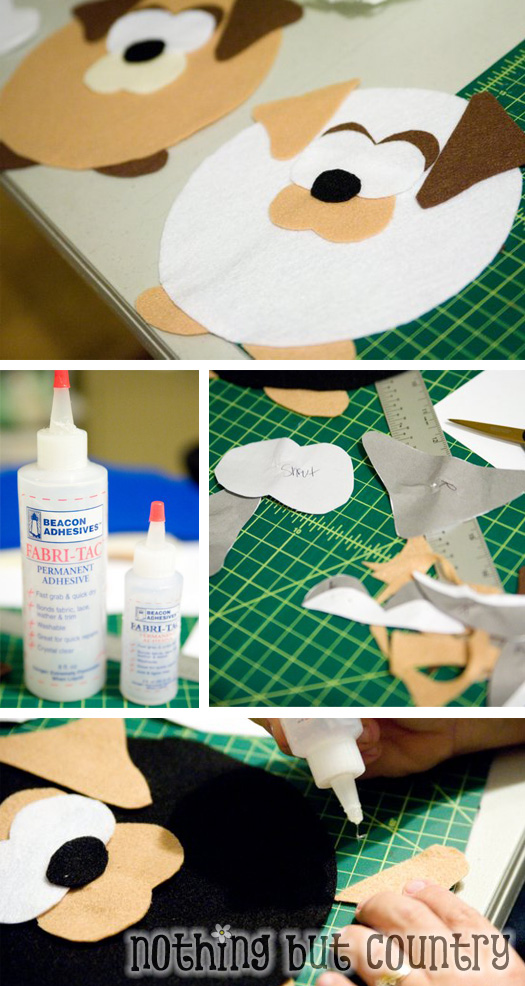 With my felt I cut out simple shapes like circles, triangles, ovals, etc. to make some cute puppies. I used my FAVORITE glue of all time, Fabri-Tac!! I found it at my local JoAnn's Craft Store. I wanted to make this project as easy as possible. It dries quickly and in 24 hours it dries as hard as sewing all the pieces together.
I also cut out a few bone shapes and puppy food bowl. I simply went on Google.com and searched for bone and food bowl graphics and stretched them in word document and use them as a guide for cutting out those shapes.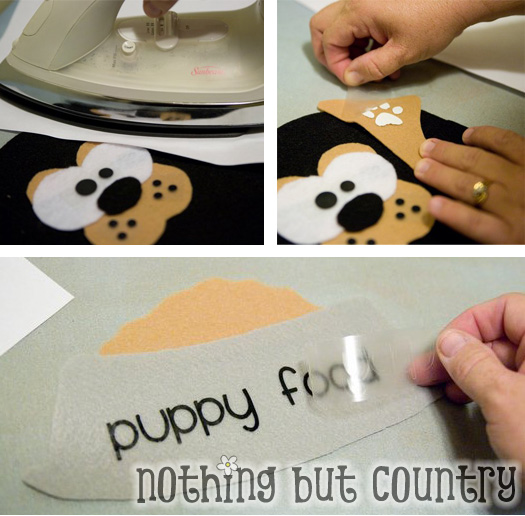 Another shortcut was using my Silhouette machine and iron on transfer vinyl. I was not sure if the felt would work. So I tried it on a piece of scrap felt 1st and it worked!! WOOHOO! So in lieu of cutting out all the little black circles for the puppy whiskers and eyes I simply ironed them on. I used black for my daughter's name and for the puppy bowl. I used white for the paw print on all of the ears. Saved me tons of time!! If you do not have a Silhouette machine- you can either use a fabric marker or cut out and glue felt pieces.
Next was cutting and marking all the pieces. Chad did this part. He has a great eye. Using a ruler, we cut our panels out.
Since my table measured 34" wide by 28" tall and I did not need to finish the bottom edge- and I wanted 1/2 inch seam allowance I knew my 4 side panels needed to be 35" x 28 1/2 " (usually it would have been 35" x 29" if I added a 1/2 inch for the bottom but I didn't need to hem the bottom with felt). Then, I started on the chocolate pieces.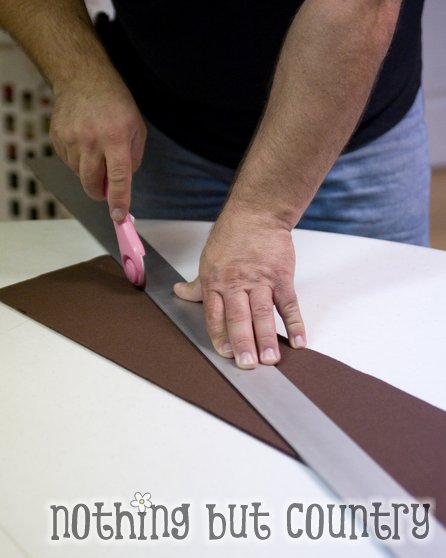 I cut the top to be 35" x 35", and then 2 sides of the "roof line" to be 35" x 6" and for the front triangles. I used the same 35" x 6" found the center. Cut from the center top to the bottom corner to give me triangles for the front. (I later added an extra square piece on the front for decoration).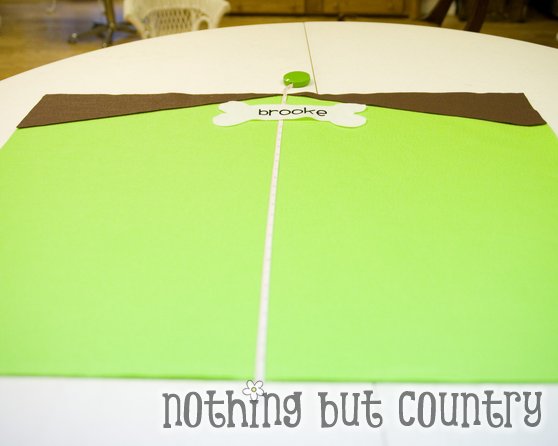 Then, I measured and marked where the door would go, making sure my bone was out-of-the-way of the door. I knew the door needed to be at least 23" tall.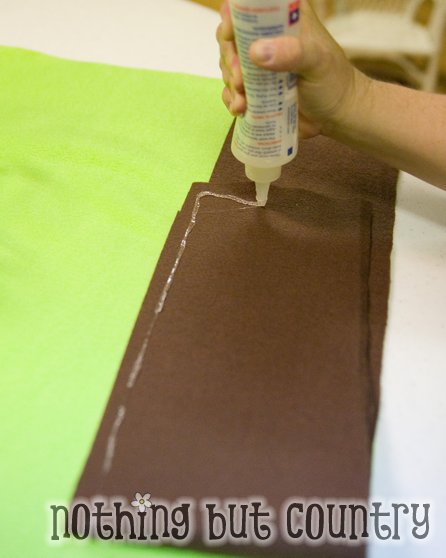 Then, I proceeded to glue all the pieces onto each of the 4 green panels. I decided to glue the chocolate roof pieces to help hold it in place when I wanted to sew over it for support. I glued on all the puppies and bones to the panels.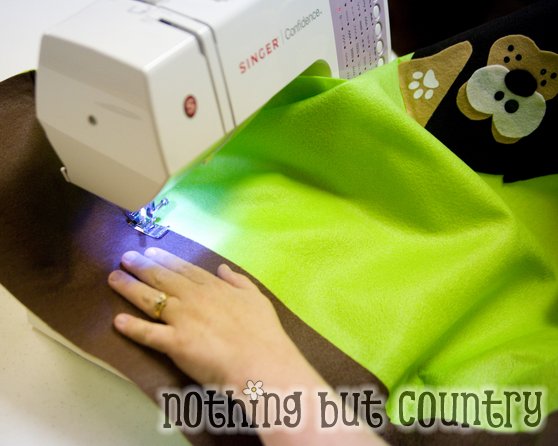 I ran a straight stitch around the bottom edge of all the chocolate pieces on each of the 4 lime green panels. Once I finished, I proceeded putting my cube together. I did the sides first.  With right sides together, I sewed them together with a 1/2" seam allowance. Once I had attached all 4 panels together in 1 long piece- I quickly cut the door to the house. I waited to do that so I didn't alter how strong the felt would be on the front panel.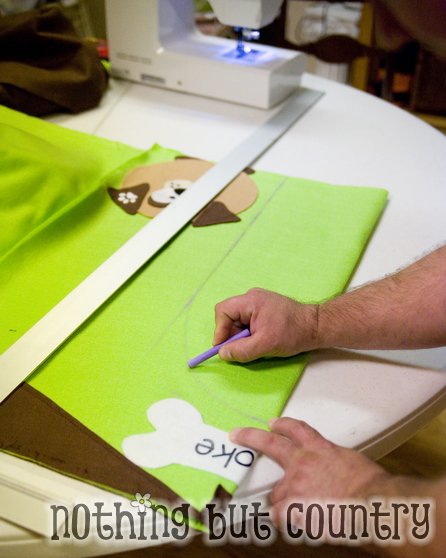 Using a ruler and chalk, we folded the front panel directly in half. We drew the door 23" tall and since it was half, we made it 7" wide (once open it would be 14" wide). The chalk wiped right off.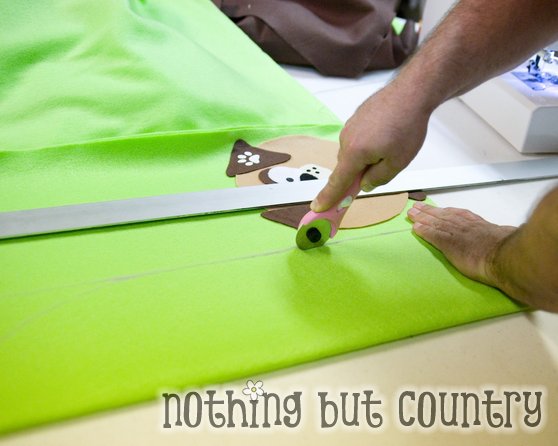 Using a rotary cutter to follow the chalk line, we cut out the door.
Once the door was cut, I sewed the final fourth side of the cube/dog house. Now it is time to add the roof.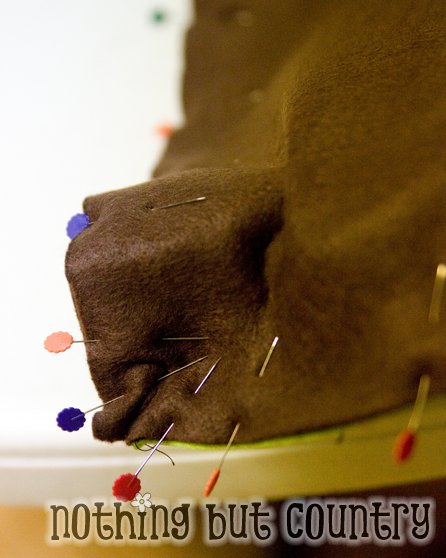 Again having right sides together, I pinned all the way around and sewed a 1/2 " seam allowance to attach the roof. Very easy. No fancy sewing skills needed. (In fact I have only been sewing about a year since a girlfriend convinced me to turn on my machine last summer. I am not a skilled seamstress by any means. If it's a straight stitch, I can do it.)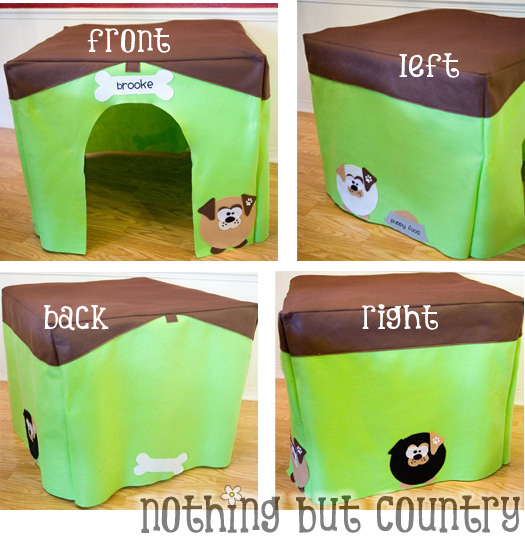 Remove all the pins and turn your play house right side out and place it over your card table. 🙂 ALL DONE. Stand back and admire your awesome work!! I was so giddy with how cute it came out.  How EASY it was!! My daughter loves it!! It's ready for her puppy party birthday 🙂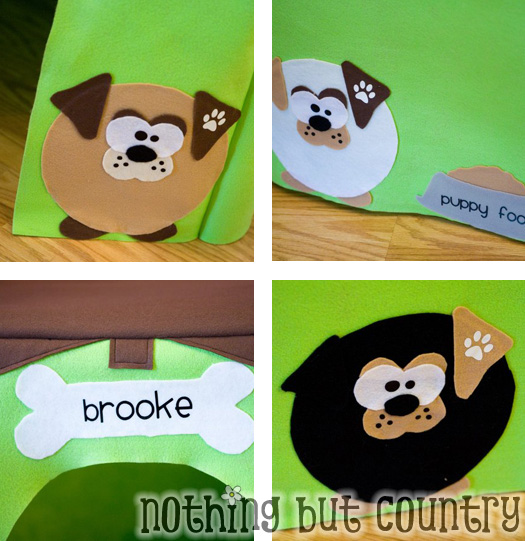 Here are a few close up of the details. I love that I didn't need to sew every piece on. That saved me so much time.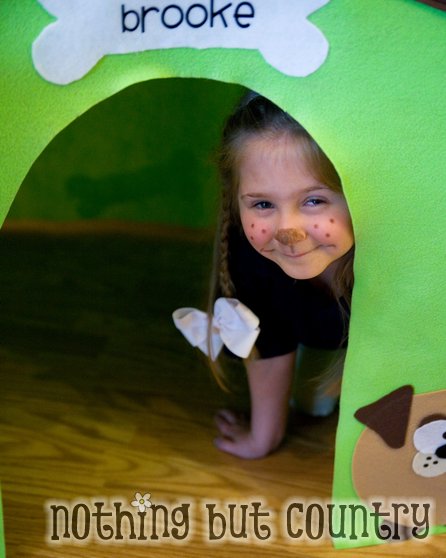 She was so excited to get in- she wanted her face made up like the puppies on her play house. She hasn't come out all afternoon. LOVE THAT!!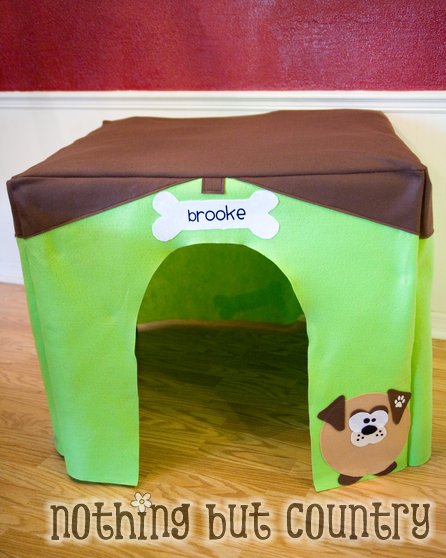 Hope you enjoyed our puppy playhouse craft.
You can find us all over the internet. Gotta love the internet right??
Website- http://www.nothingbutcountry.com
Facebook- http://www.facebook.com/nothingbutcountry
Twitter- http://www.twitter.com/nothingbcountry
Pinterest- http://www.pinterest.com/mbnorth
*****************
Do you want to see more from Nothing But Country?  Chad and Mary Beth's blog is FULL of inspiration!
I LOVE these Mountain Dew cupcakes.  You can find lots of yummy recipes here!
This Happy Birthday American print is amazing!  I'm saving this to print for next year!
This Disney pillowcase dress is darling, too.  I would wear this to Disneyland for sure!
Have a spectacular day!
You can find out how to be featured on Oopsey Daisy here.